COME WHAT MAY, A New Cabaret Vol.2 10 NOVEMBER 2016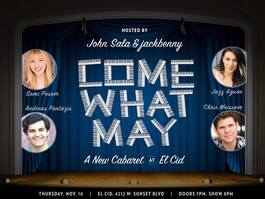 Join us to keep theatre youthful and alive in Los Angeles
.
A
new musical theater cabaret, unites selections of the multitudinous theater catalogue for an eclectic evening of songs on the stage of
"El Cid".
Hosted by local theater aficionado
John Michael Sala
and produced by
jack benny
.
(Brothers
Jack
and
Benny Lipson
),
The cabaret strives to bring musical theater back to the heart of Los Angeles, and features a potpourri of performers from the local scene and music direction by Jack Lipson (with Benny Lipson on bass). Join us each month as we explore a new theme through which to view the gamut of styles under the ever-evolving world of musical theater.
---
_______________________________________________________________________________
ANCESTOR in "The ADDAMS FAMILY" OCTOBER - NOVEMBER 2016


THE ADDAMS FAMILY features an original story, and it's every father's nightmare. Wednesday Addams, the ultimate princess of darkness, has grown up and fallen in love with a sweet, smart young man from a respectable family - a man her parents have never met. And if that weren't upsetting enough, Wednesday confides in her father and begs him not to tell her mother. Now, Gomez Addams must do something he's never done before - keep a secret from his beloved wife, Morticia. Everything will change for the whole family on the fateful night they host a dinner for Wednesday's 'normal' boyfriend and his parents.

_______________________________________________________________________________
Le Fou in "BEAUTY & the BEAST" AUGUST 2016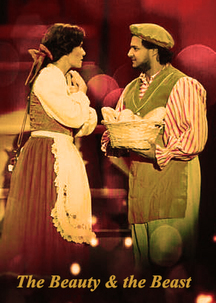 BEAUTY and the BEAST A timeless love story of a handsome prince and a beautiful maiden, a beautiful castle, and dozens of delightful characters? Of course, the story begins with a happy young girl and her father, but to get to the handsome prince, she must first meet and discover the secret of the Beast living in a dark castle. Then you get to meet the whimsical players in the form of a candle, broom, plates, cups, saucers, forks, knives, spoons, and a bedroom dressing table! But the time is of the essence. If Beauty cannot tame the Beast before the last petal of the beautiful red rose falls to the ground, all of the characters will become permanent furniture and dishware.
Music by Alan Menken / Lyrics by Howard Ashman & Tim Rice / Book by Linda Woolverton
==================================================================================================
Directed by Matthew McCray / Choreographed by Chelsea Baldree / Music Direction by Bill Strongin*
Executive Producers Scott & Georgia Well

---
_______________________________________________________________________________
ANATOLY SERGIEVSKY in "THE CHESS" OCTOBER 2015

_______________________________________________________________________________
ENJOLRAS in "LES MISERABLES" APRIL 2015

_______________________________________________________________________________

More Musicals & Plays 2007 - 20014

_______________________________________________________________________________

_______________________________________________________________________________

- Les Miserables Enjolras April 2015
- Les Miserables Ensemble - Marius U/S January-February 2015-June 2015
Southern California Regional Tour
- You're A Good Man Charlie Brown Snoopy October 2014
- In the Heights Domingo / Ensemble February 2014
- The Music Man The Barber Shop Ewart / Quartet Lead January 2014
- Rent Homeless Man #1 November 2013
- Beauty & the Beast The Beast September 2013
- The Scarlet Pimpernel Chauvelin June 2012
- Hairspray Ensemble
- Into the Woods Rapunzel's prince / Dance caption
- Broadway Songbook VII - V - IV - III Featured performer / Orchestra Contractor
- The Magic Flute Man in Armor / Priest 3
- City of Angels Lt. Munoz / Pancho
- Little Shop of Horrors Voice of Audrey II / Wino I
- Sweeney Todd Tobias
- Kiss Me Kate Paul
- Pirates of Penzance Pirate King
- Witness / West Coast Premiere Mayor Johnson
- Petite Rouge Frog The Frog
- You're A Good Man Charlie Brown Charlie Brown
- The Apple Tree King Arik
- Once Upon A Mattress Sir Harry
- Canterville Ghost / USA Premiere Mr. Hirem B. Otis